ARTICLE SUMMARY
One of the main challenges for CEOs and supply chain managers is deciding where to locate a distribution centre.
As a consultant, I have been dealing with this particular problem for the past 30 years or so. In this time, I have formulated the following handy tips:
Get closer to where the points of demand
Access to customers, roads, and ports is the key
Weigh up the cost of transport
Don't ignore the ecommerce factor.
If you've got products that are used by the general population, most high-density population areas are going to draw your distribution centres towards them.
Don't be tempted by the cheaper cost of land and buildings in outlying areas. Only if a number of locations all meet the needs of proximity to customers will the comparative cost of land and buildings become important.
4 Tips to Help You Choose Distribution Centre Locations
Where should we locate our distribution centres and how many should we have? These are the types of queries I get all the time from company CEOs and supply chain managers.
I have been helping people with these challenges for about 30 years, during which I have formulated some handy tips, which I also spell out in a YouTube video. Here goes:
Tip #1—Get closer to Where the Demand Is
I live in Sydney, Australia, which is where my managing consultancy businesses are based. So I will use Sydney as an example.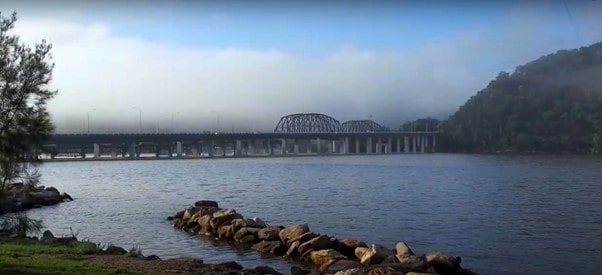 There are a couple of distribution centres about 30 kilometres north of Sydney, in an area near the picturesque Hawkesbury River.
But why would anyone put distribution centres so far away from the city centre? Well, it's probably cheap land costs or cheaper labour costs. But there are many other costs to be considered when you think about such locations.

In fact, your distribution centres need to be close to the demand. So if you've got products that are used by the general population, most high-density population areas are going to draw your distribution centres towards them.

Tip #2—Access is the Key
In Sydney, most warehouses are in an area about 20 kilometres west of the central business district. In fact, all the major businesses in Sydney seem to have their warehouses there.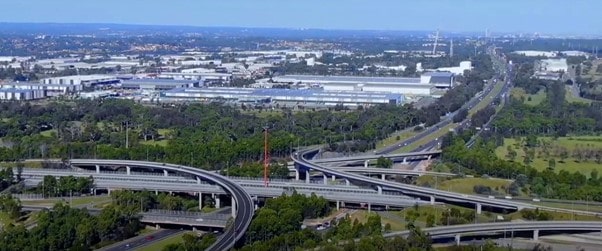 Why is that? This location is at the junction of two major motorways, the M4 and the M7, as per the picture above. On the M4, trucks can very easily drive straight into Sydney for deliveries.
On the M7, trucks can go around the north of Sydney or around the south of Sydney. So the access points are really good for resupply into the warehouses and also from there out to customers.
In the end, what really counts when choosing a location for your distribution centre is the available access to customers, roads and ports, and to warehouses (for resupply).

If a number of locations all meet these needs, then of course the comparative cost of land and buildings becomes important.
Tip #3—Weigh up Transport Costs

When you are looking at warehouse locations it's tempting to think primarily about the cost of the land and the warehouse, and maybe the local labour cost. But you have to weigh it all up. In fact, inbound and outbound transport,  along with labour costs, swallow up a significantly higher proportion of the overall distribution costs.
Tip #4—Don't Ignore the Ecommerce Factor
The dramatic shift by customers to ecommerce as a result of the Covid-19 pandemic has highlighted the urgent need for proximity to a company's customer base.

Same-day delivery and resupply have become critical factors in the competition for market share. The extra hours needed for delivery from far-flung distribution centres could negatively affect customer satisfaction and burrow into bottom line profits.
Is this outcome worth scrimping on land and building costs for? I, for one, certainly wouldn't site my warehouses in the Hawkesbury River area.
To Sum Up
The three most important factors to consider when choosing a location for your distribution centre are:
Access to infrastructure
Most optimal service
Overall cost
Where is Your City's Warehouse Hub?
If you liked this article, please comment below. I'd be intrigued to know where you're from. Maybe you can identify an area in your city that is equivalent to the one in western Sydney. A little snapshot of where you'd locate your warehouses would be most welcome.
If you found this article, and the associated video useful, why not subscribe to the Supply Chains Secrets YouTube channel? It's a great resource to gain tips about supply chain management, of great value whether you are new to the game or in mid-career.